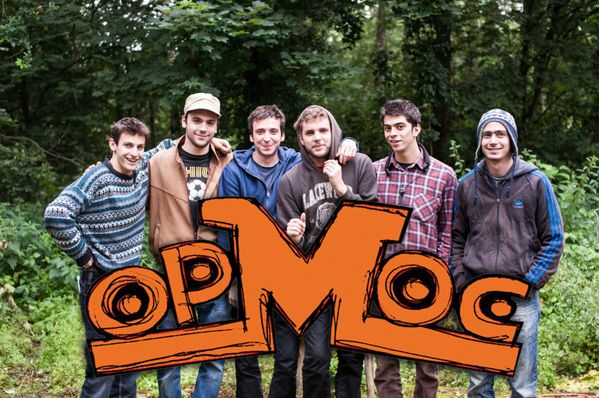 Opmoc, c'est un groupe de 6 jeunes musiciens, tous âgé de 22 à 26 ans. Ce goût pour la musique, ils l'ont depuis longtemps puisque la plupart d'entre eux ont été éduqué dans des familles musicales. Avant d'être un groupe de musique, Opmoc c'est avant tout un groupe d'amis qui se sont connus à l'école. C'est précisément à l'IAD ou au conservatoire qu'ils se sont rencontrés.
S'enchainent ensuite des compositions, des répétitions mais surtout des voyages. En effet, la majorité de leurs chansons sont des titres inspirés de leurs nombreux voyages autour du monde. Les histoires qu'ils leurs arrivent pendant leurs trips se retrouvent dans leur musique, d'où le titre de leur nouvel album Journey. Leur musique est un beau cocktail de son qui va du reggae à de l'électro du hip-hop à de la salsa en passant par du funk. Le groupe a lui même difficile de se donner un style de musique, ce qui les a amenés à en inventer un nouveau genre : le Skunk. Ne vous attendez pas à de voluptueuses beautés ni à un charme féminin : La Femme Belge est un quintette formé par de jeunes hommes qui font revivre la nostalgie de Django Reinhardt et la mélancolie de Tom Waits avec beaucoup d'énergie.
OPMOC is a group of 6 musicians based in Brussels. Featuring saxophones, trumpet, bass, drums and keyboard, their music is an electrifying cocktail, breaking boundaries with an eclectic mix of funk, reggae, punk, hip-hop and salsa.

OPMOC is not just a band, it's a team. These 6 musicians, between 22 and 26 in age, are great friends, besides being partners in song, and they complete each other perfectly on stage, creating a consolidated whole. Ignoring the usual pattern of a leader and back-up, OPMOC is a whole, a machine, an organism of its own.

They have already acquired a specific sound and an impressive amount of experience for their young age, through obstinate hard work and perseverance. For the last 6 years, the band has been rehearsing 6 hours a week, with a constancy and discipline that you can't help but respect.

The end result is impressive, as much because of the energy they give off on stage as by the cohesion obtained in a joyful blend of styles, funk, hip-hop, reggae, punk, salsa, ska, as well dub, jazz and slam, a bit of everything in short! There is no point in trying to pinpoint all the musical influences at work, suffice to say that this musical blend sounds fresh, original and entirely organic.

They call their style « Skunk », laughing at themselves and at their inability to answer the eternal question they're asked all the time: « what kind of music do you play ? ». "We just enjoy listening to all kinds of bands and musicians and I think that shines through in the pieces we write."

Martin Salemi, the keyboard player and composer of the band, asked to name a few of the band's main influences : » Its hard to say, because we try not to repeat ourselves, and we don't want to be compared to other bands or put into a box, like what happens to most bands. But if you really need to know, well, we're big Beatles fans (he says with a smile). You probably can't hear that through our music and that's a shame, or maybe its better that way, I don't know.«

OPMOC is Belgian, specifically, from Brussels. Coming, for the most part, from musical families, they studies at the Conservatory or the IAD, but have been playing together since high school.

Featuring Maxime Van Eerdewegh on drums, Antoine Lafontaine on vocals and trumpet, Bruno Borsu on alto sax, Jacob Miller on vocals and bass, Arnaud Guichard on tenor sax and Martin Salemi on keyboard, they already have about 60 concerts under their belts, including the respectable festivals Esperanzah !, Couleur Café, the Francofolies of Spa, and the young LaSemo, a well as having played venues such as the Botanique or the Place des Palais.
They also play in the streets on a regular basis, in an acoustic version with their songs reorchestrated accordingly, allowing them to travel light and play in the streets of Mexico, Belize, Guatemala as well as in France, Spain, and of course their hometown of Brussels.

http://opmoc.com/bio/